The CIM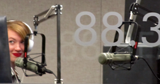 Photo by Kelsey Wells
The Center for Innovation in Media houses student-run media: newspaper, radio and TV.
CIM
Sidelines
WMOT 89.5
WMTS 88.3
MT10
! This is an archived version of this website, and is no longer up to date. The current site is here: MTSU JOURNALISM
The School of Journalism at Middle Tennessee State University offers an internationally recognized and accredited program designed to equip students with both the professional and technical knowledge necessary to be successful in today's, and tomorrow's, work environment.
Courses are taught by academically distinguished and professionally experienced faculty that includes 20 full-time tenured and tenure-track professors. The School emphasizes the fundamentals—writing, reporting and ethics—along with contemporary topics such as social media, integrated marketing communications and entrepreneurship.
The College of Media & Entertainment (formerly the College of Mass Communication), of which the School of Journalism is a part, has launched the Center for Innovation in Media, bringing together the University's two campus radio stations, WMOT and WMTS, and the school newspaper, Sidelines, along with TV broadcasting facilities. With the center's opening, the School will further expand its course offerings that emphasize the acquisition of digital multimedia skills.
Areas of Study
There are five concentrations within the school, each with its own core faculty:
• Advertising
• Journalism
• Media Studies
• Public Relations
• Visual Communication
These courses of study are designed to acquaint students with the history, theory, ethics, social responsibility and law of mass communication while providing practical skills and experience in laboratory courses, fieldwork and internships.
Earn a Master's Degree
The College of Media & Entertainment also offers graduate studies leading to a Master of Science degree in Mass Communication. For more information: Masters Program.
Through the Accelerated Bachelor's-to-Master's (ABM) program, qualified undergraduate Journalism students can complete the requirements for both the bachelor's and master's degrees in as little as a year more than the bachelor's program takes. Required are a GPA of at least 3.25, completion of at least 75 hours toward the undergraduate program, and for transfer students, two semesters full-time at MTSU. Get started by completing the application here.
MTSU School of Journalism
Mission Statement