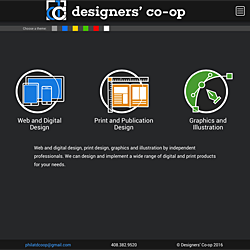 A partnership between me and former student Jordan Kennedy, who is now a graphic design manager at Ingram Content Group, and with other former students and independent designers and coders as need arises. It was established in 2015.
The site is designed and coded by me.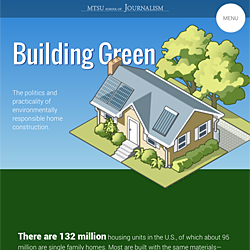 This site covers all aspects of environmentally friendly home building. Researched, reported, designed and coded by me and student Jordan Kennedy. The code employs Javascript and canvas for animations, and is fully responsive.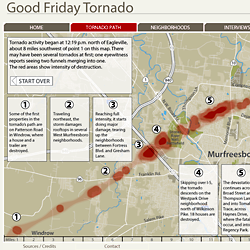 An MTSU School of Journalism project for the one-year remembrance of a tornado that hit Murfreesboro on April 10, 2009. The project was originally proposed by associate professor Ken Blake. Students from a reporting class team-taught by assistant professors Leon Alligood and Jennifer Woodard (EMC) interviewed tornado survivors and prepared stories in a variety of media, from text to soundslides to audio files.
I then designed the website and one of my students, Floris Moriceau, did the coding using jQuery. The students' interviews are embedded in the neighborhood pages.
A print version of the graphic ran in the Murfreesboro newspaper, the Daily News Journal, along with six of the students' stories, and the web version was promoted and linked to from the paper's website.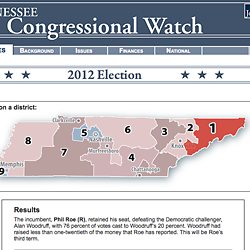 An advanced visual communication class project, designed by me and student Chloe Polivka, with reporting by Kelsey Wells and Christopher Do, covering Tennessee's nine U.S. congressional district races in the 2012 midterm elections.
We started the project at the beginning of the Fall semester prior to the elections, and updated with results at the end.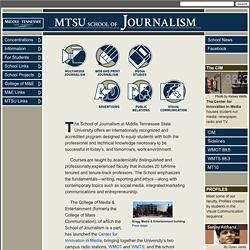 MTSU School of Journalism website
I redesigned and coded the School's website in 2009 and have administered it since then. It has gone through several redesigns in an attempt to work within MTSU's IT department rules, and to keep it compatible with older browsers such as Explorer 7 and 8, which, until a year or two ago, still made up as much as 5 percent of traffic.
As class projects, I have periodically had VCOM students design short popup pages for the right column of the home page, profiling students, alumni and faculty as well as other features of the School.