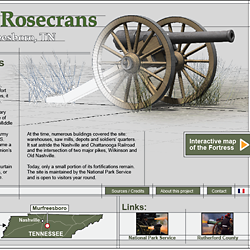 Fortress Rosecrans is an historic monument in Murfreesboro, where the largest fort built during the Civil War once stood. This interactive project was originally researched by Floris Moriceau, a student in the visual communication sequence, and then designed and illustrated by assistant professor Phil Loubere, with Floris doing the coding using jQuery and Javascript.
The purpose of the project was, in part, to create an open source-coded interactive graphic without any Flash or other proprietary elements. This project is fully functional on any device, including Apple iPhones and iPads.
We have provided it to the National Park Service, which has linked to the site from their website: http://www.nps.gov/stri/historyculture/foro.htm.
More than 100,000 artifacts found on a mesa in Huntington Beach have provided insight into the lives of people who lived there in the prehistoric past. Register reporter Cindy Carcamo and I talked to a Cal State Fullerton archaeologist in an effort to recreate what the village would have been like and how the people lived. I then made two versions of a graphic, one for print (which ran on A3 in black and white) and an interactive online version. The main image was made with 3D modeling software.
The Environmental Nature Center in Newport Beach is the county's first structure to achieve the highest level of energy and environmental design certification from the U.S. Green Building Council. This graphic accompanied a story by Cameron Bird for the OC Register.
Reporting was done by Chantal Lamers. The print graphic ended up running in black and white on an inside page of the local section.
This was for a travel story written by Matthew Ralston for the OC Register issue of June 20, 2008. It was part of a section devoted to China travel. Although originally planned for a large chunk of the inside color doubletruck, the graphic eventually got crunched into a smaller space than it needed to function, that being to explain and depict all the great walls that have been built by 5 dynasties over the last 2,500 years. There was also a section on how the walls were built, but that got cut entirely from the print edition.